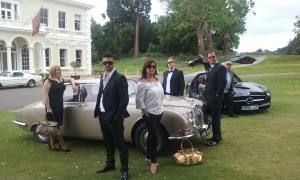 In the first episode of series 4 of Posh Pawn, James Constantinou and the London-based team at Prestige Pawnbrokers return! Catch up with the fortunes of the Hatton Garden, Weybridge and Richmond stores.
Dont miss it! 26th August Channel 4 at 8pm!
With daily proceedings getting off to an extravagant start as James Constantinou jets off to sun-kissed Palma to look into a yacht thought to be worth £150,000. While, memorabilia expert Lawrence values a guitar signed by Oasis, and an impressive diamond bracelet gives Haton Garden branch manager Alicja a chance to secure an international client.
Plus, the handbags are back! As a vivacious prospective customer hopes the proceeds from the sale of a set of designer handbags might help get a new business venture off the ground.